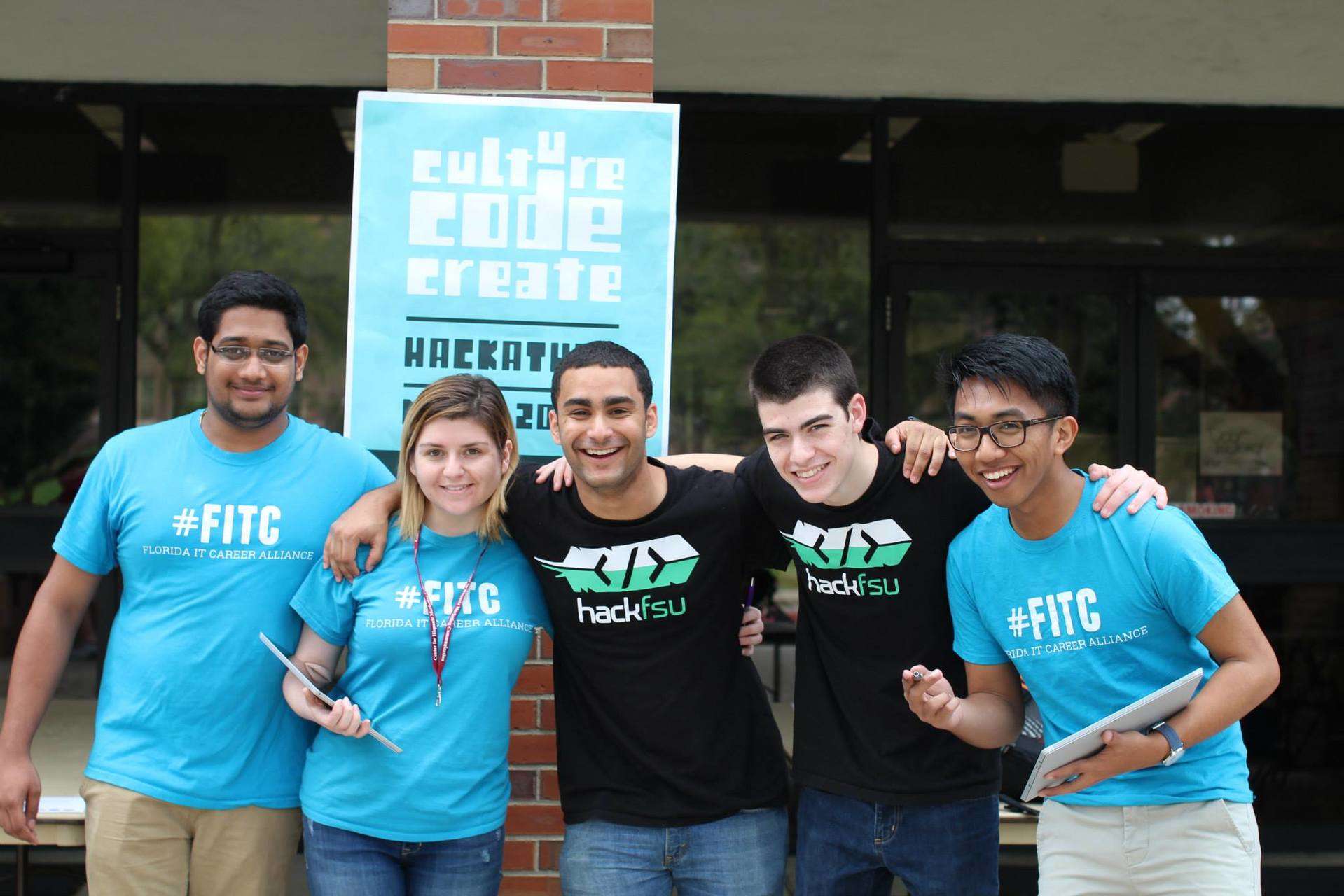 Student Clubs:
Ad Club
The Advertising Club, which is open to all majors, is one of the largest collegiate chapters of the American Advertising Federation in the nation. Ad Club provides insight into the communications industry including but not limited to advertising, public relations, media, digital, copy writing, and integrated marketing. We also give members opportunities to network with talented professionals, build their portfolios, earn scholarships, and travel to industry conferences in cities such as New York, Chicago, Boston and Atlanta!
AITP: Association of Information Technology Professionals
AITP is an organization that allows members to participate in an elite network of information technology professionals, educators, and students dedicated to continuing education, professional growth, leadership, and the exploration of issues in the IT community.
ALA Student Chapter
The ALA Student Chapter is composed of students in the master's or doctoral studies programs in the College of Communication and Information at Florida State University. Undergraduates interested in libraries and information studies are also encouraged to join. We hope our organization will help our students develop professional ties in the library and information community through our social programs and general meetings, where students have the opportunity to learn more about a specific area of library service from a professional in the field.
Blacks in Computing
Our mission is to Provide professional development skills to black students in related fields, Provide networking and career opportunities for black students in this field, Mentor young black children off campus and bring awareness to the opportunities available for them in this field, Helping to provide resources to underclassmen and help the retention rates of black students in related majors.
Campus Girl Scouts
Campus Girl Scouts was created to encourage and promote the values and ideals of Girl Scouts while serving the college campus and surrounding community. Membership is open to all students at FSU.
CCI Student Leadership Council
The College of Communication & Information Student Leadership Council will serve as a liaison group between the student body, the Dean of the College and the alumni of the College of Communication and Information and the Florida State University.  Additionally, the Student Leadership Council will help cultivate alumni engagement from each and school and major within the college. CCI-SLC will facilitate various activities, meetings, workshops and other events to improve unity among the 3 colleges while working to provide students with professional development and networking opportunities.
Codeducation
From business to biology, technology is becoming increasingly critical in most every career. Our college cirriculum is unable to keep up. Even though high schoolers in this city are learning programming languages, most FSU students are not. Run by students and run for students, Codeducation teaches tech topics to non-tech majors.
COG: Community Outreach Group
COG is focused on serving the greater Tallahassee community. We emphasize educating and engaging students about getting involved and preparing for their future while also serving other populations like seniors and minorities. We are a diverse group of students looking to better our community by putting our many skills to work for those in need.
Cybersecurity Club
The Cybersecurity Club is a student organization at FSU. Students gather to learn about issues and problems in technological, social, organizational, and cognitive aspects of cybersecurity. Various disciplines are supported, e.g., computer science, information technology, criminology, law, education, business, public administration, and healthcare, etc. Students advance their technical skills and knowledge through various national and international events. If you are interested in information security, or just want to become more technical in the online environment, come check out the FSU Cybersecurity Club.
FSU Forensics
The FSU Forensics Program allows undergraduates the opportunity to develop their communication skills through participation in one of two nationally competitive traveling squads: the speech or debate team. Students travel several weekends each semester to intercollegiate speech or debate tournaments where they have the opportunity to compete against students from across the nation and receive feedback from members of the academic community.
FPRA: Florida Public Relations Association
FPRA Tallahassee Student Chapter is an organization designed for students and young professionals who are interested in a career in public relations. Join us for our bi-weekly meetings to learn more about PR, networking and internships. FPRA is an organization dedicated to furthering the success of students interested in a career in Public Relations.
Lambda Pi Eta Honors Society
Lambda Pi Eta is an esteemed, honor society associated with the National Communication Association. The purposes of Lambda Pi Eta are: (1) to foster and reward outstanding scholastic achievement in communication; (2) to stimulate interest in the field of communication through community outreach and service; (3) to promote and encourage professional development among communication majors; (4) to provide an opportunity to discuss and exchange ideas in the discipline of communication; (5) to establish and maintain closer relationships and mutual understanding between communication faculty and students; and (6) to explore options for graduate education in communication.
NSSHLA: National Student Speech Language Hearing Association
The FSU chapter of NSSHLA, founded in 1972, is designed to benefit its members by providing preparation in becoming professionals in the fields of speech language pathology, speech and hearing science and audiology, as well as students interested in related majors and professional fields. Membership is open to all FSU students, undergraduate, graduate, and doctoral students included. (It is not a requirement to be in the Communication Disorders major.)
Social Spear
Social Spear is an organization aimed at developing young professionals and showing them how social media plays a part in the technology field. Social Spear offers a variety of events such as bringing in local speakers, touring companies in the Tallahassee community, and offering crash courses in the Creative Cloud.
STARS Alliance (Students & Technology in Academia, Research & Service)
The mission of the STARS Alliance is to increase the participation of women, under-represented minorities, and persons with disabilities in IT/computing disciplines through multi-faceted interventions. At FSU, these interventions focus on projects and programs that start at elementary school and progress through graduate school and on to IT/computing careers. The Alliance is organized as a national constellation of regional stars that include research universities, minority and women's universities and colleges, K-12 educators, industry, professional organizations, and community groups.
Student Academy of Audiology
Student Academy of Audiology (SAA) is a national student organization of the American Academy of Audiology. Florida State University was the first undergraduate SAA chapter and remains one of few schools to offer SAA to undergraduate students. FSU SAA is comprised of a variety of different students who have interests in audiology or speech language pathology, many of whom are in the Communication Sciences and Disorders program or those who plan to be in the program. The members of the club work towards planning and hosting fundraising events that support the FSU Speech and Hearing Clinic, as well as the club's annual Guatemala mission trip. Members are also encouraged to collaborate and raise awareness about audiology and communication. Many of the undergraduate members of SAA are the future professionals of audiology, as they take steps to further improve the field as a whole.
THT: Transfers Helping Transfers
THT is a unique organization that provides opportunities for students to meet other students from differing colleges by organizing various events and activities. This helps each student feel more a part of FSU and the Tallahassee community.
WISE: Women in IT Sharing Experiences
WISE is an organization made up of women who are devoted to banding together and staying strong as we prepare to enter the workforce in a mostly male-dominated career field. We encompass all majors and aim to support women in tech! WISE events primarily revolve around professional programs, social events, and developing mentors in the community.
Women Wednesdays
Women Wednesday's is a peer and professional mentoring networking organization that partners with fellow female oriented organizations, both on and off campus, to promote women in the workforce and professionalism.
WVFS Radio
WVFS is FSU's student radio station, broadcasting 24/7/365 at 89.7FM and worldwide at wvfs.fsu.edu. WVFS offers hands on experience in all facets of radio operations, is staffed by 150-200 volunteers, and recruits three times a year at the very beginning of the fall and spring semesters, and (for summer) at the very end of the spring semester.  WVFS welcomes all majors.  No experience is required.
Other Clubs CCI students participate in
Autism Speaks U @FSU
Business Law Society
Career Center Student Ambassador Program
Society for Collegiate Journalists
Hercampus
Technole
The Film Club
AAA Health
Alpha Kappa Psi
Alpha Phi Omega
ACLU FSU
Association for Information Systems
Audio Production Club
SLC Film Committee
FSU Flying High Circus