By: Courtney Widman
Friday August 21, 2015
On June 15 and 17, the iMacs in classroom 2010 in the William Johnston building were at full capacity. Over 60 Girl Scouts of the Florida Panhandle were eagerly clicking their mice and typing at their keyboards while learning about game design and basic coding skills at the "STEM at FSU" Workshops. Multiple student organizations were involved in the workshop including the FITC Student Ambassadors, CCI students involved in IT Leadership,
COG
(Community Outreach Group). The organizations banded together to teach the girls about game design, coding, and HTML while using a variety of pedagogical tools ranging from GameMaker, Code.org, and code blocks.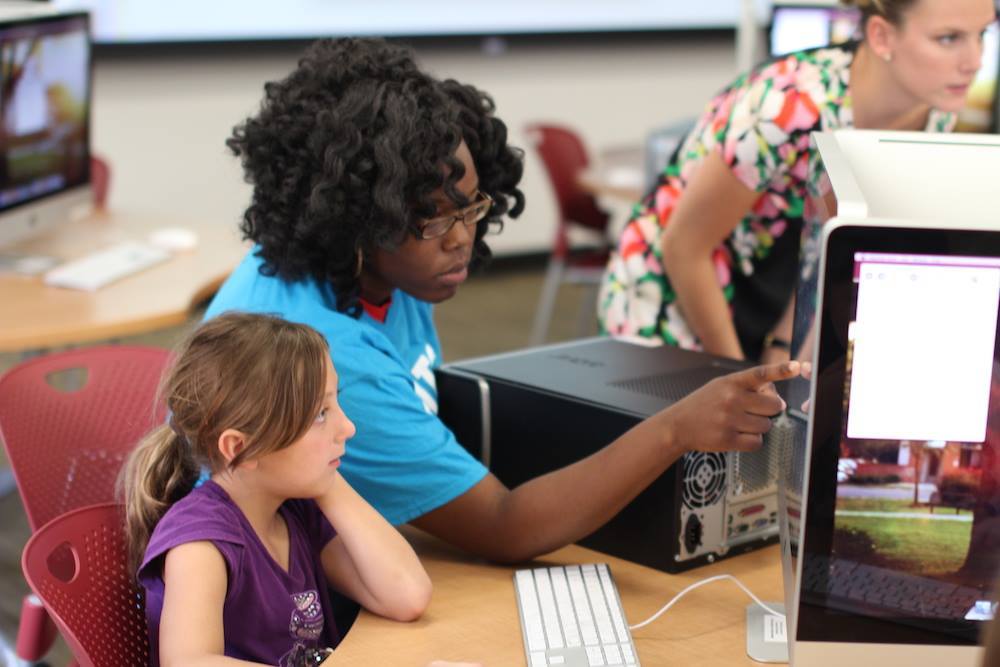 Amy Jones, Membership and Community Development Manager at the Girl Scout Council of the Florida Panhandle GSCFP, Inc. experienced the passion Student Ambassadors bring to teaching other students. "The entire team exudes confidence…" Mrs. Jones noted. "Each member seeks to understand how our girls learn and uses that information to ensure they get the most from their experience. It is such a breath of fresh air to see our future leaders take on such tasks while acting as consummate professionals," she said. According to the US Bureau of Labor Statistics, there will be 1.2 million U.S. computing-related job openings by 2022. In 2014, only 26% of the computing workforce consisted of women. Joey Cardenas (STARS student, IT Major, FITC Ambassador) has participated in dozens of workshops and events similar to the "STEM at FSU" workshop with the Girl Scouts. According to Joey, "teaching HTML and basic coding to the Girl Scouts such as was a fun experience." He loved seeing the girl use the simple tools the Ambassadors taught them to create their own works. "I enjoyed encouraging the Girl Scouts to think past the conventional lessons and make their own experience." Since its inception in June 2014, over 60 FSU and FAMU students have become FITC Ambassadors. Several of our Ambassador alumni were employed upon graduation at General Motors, JPMorgan Chase & Co., KPMG, Grey Advertising, and other companies.
The entire team exudes confidence…Each member seeks to understand how our girls learn and uses that information to ensure they get the most from their experience.
Amy Jones, Girl Scout Council of the Florida Panhandle GSCFP, Inc.
The Girl Scouts also participated in another FSU event, "Geocaching" – held on June 11, 18 and 25 at the 'Camp for All Seasons' in Tallahassee, Florida. Courtney Lisenbee (STARS student, Media/Communication Major, FITC Ambassador) helped the girls understand geocaching and use GPS technology to hide and retrieve "caches" of information throughout the camp grounds. Ms. Lisenbee described how "working with the Girl Scouts was a great opportunity to get young females interested in STEM." After the workshop, Mrs. Jones described how "FSU students provide insights into IT related fields that most Girl Scouts had never even considered." She hinted, "I think we may have some future Seminoles in the College of Communication and Information." According to Associate Dean Ebe Randeree, "getting girls interested in STEM careers early is important; its something the College has invested in for the past five years through the numerous outreach programs to reach young women." According to the report "Generation STEM: What Girls Say about Science, Technology, Engineering, and Math" by the Girl Scout Research Institute released in 2012, "girls are interested in STEM fields and aspire to STEM careers the study shows, but need more exposure and adult support to carry this interest into the future." Florida State is currently the only college or university to partner with GSCFP to teach STEM classes. GSCFP serves the 19 counties in the Florida Panhandle. For more information on Girl Scouts or their STEM Camps, contact Amy Jones of GSCFP at
ajones@gscfp.org
. For students interested in assisting in this outreach project, contact Ebe Randeree at
Ebe.Randeree@cci.fsu.edu
. The Florida IT Career Alliance is an initiative funded by the Florida Board of Governors which aims to recruit, retain, and employ Florida's next generation technology workforce. FITC promotes information technology, computer science, and computer engineering to local high schools and college students across Florida. Connect with FITC on
Facebook
,
Twitter
, and
LinkedIn
.